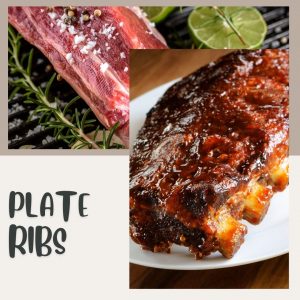 Short ribs, Beef Cut Plate-Short Rib
The plate, an American cut of beef from which short ribs may be taken. Short ribs are a cut of beef taken from the brisket, chuck, plate, or rib areas of beef cattle. They consist of a short portion of the rib bone, which is overlain by meat which varies in thickness. There are two major types of cuts: The "flanken", which is cut across the bone and leaves the bone just 1 to 2 inches (2.5 to 5.1 cm) in length, or even less and the "English", which is cut parallel to the bone and leaves the bone up to 6 inches (15 cm) in length. English cut short ribs may be served individually, or three or four may served connected to one another (a style known as the "plate"). Short ribs are popular in many international cuisines.
Instructions
HOW TO SMOKE SHORT RIBS

Dry Brine with Salt over Night.

Smoked for 7hrs @ (285°F / 140°C)

Spritz every hour with beef broth.

Season with Salt and Pepper

Rest for 1hr and enjoy perfectly cooked beef ribs.
Notes
From Wikipedia, the free encyclopedia